U.S. health officials, with unflagging support from the Biden Administration, are charging full speed ahead on plans to vaccinate children as young as 5 for COVID, despite the extremely low risk the virus poses to kids, and against the urgent warnings of scientists and doctors.
By  Children's Health Defense Team
The Defender is experiencing censorship on many social channels. Be sure to stay in touch with the news that matters by subscribing to our top news of the day. It's free.
According to the Oct. 8 data release from the Vaccine Adverse Event Reporting System (VAERS), more than 21,000 adverse events, including 24 deaths (two of which were suicides), have been reported in the U.S. in 12- to 17-year-olds following experimental COVID shots.
VAERS also received 111 reports of COVID-vaccine-related deaths in young adults in their late teens and twenties. As The Defender reported last week, 21-year-old college student Shawn Kuhn, a senior majoring in exercise and sports science who chose to get fully vaccinated, died on Oct. 11 from "COVID complications."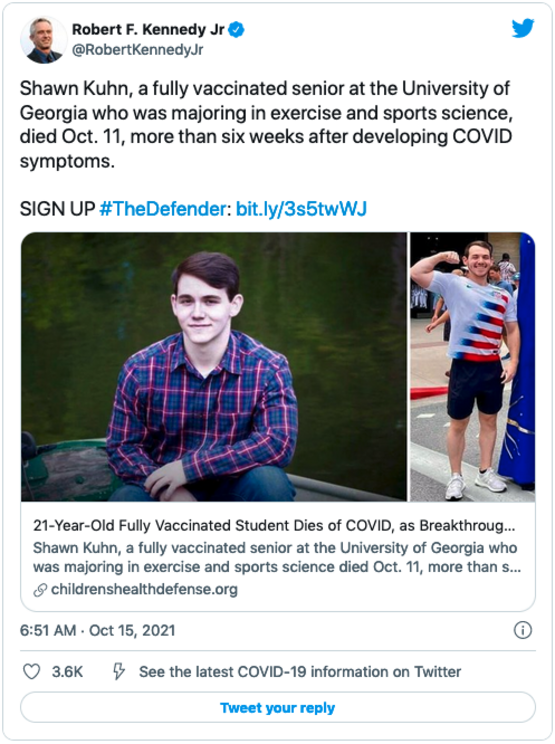 Kuhn's death raised questions about the potential for fully vaccinated people to develop antibody-dependent enhancement (ADE). Since the vaccines entered clinical trials, scientists have expressed worries about the "ticking time bomb" phenomenon of ADE, which makes vaccinated individuals more, not less, susceptible to severe illness.
Pressure not to report adverse events means that these tragic injuries in young people likely represent a drop in a much deeper bucket. Even assuming a willingness to report reactions, doctors often do not know what an adverse event looks like.
For months, prominent doctors and scientists around the world have issued urgent warnings about the catastrophically bad safety profile of the Pfizer vaccine and other COVID injections, strongly arguing against their use in children.
ORDER TODAY: Robert F. Kennedy, Jr.'s New Book — 'The Real Anthony Fauci'
Several Scandinavian countries paused the use of the Moderna vaccine in younger age groups, concerned with the risk of myocarditis — a move that shamed the U.S. Food and Drug Administration (FDA) into delaying its decision about whether to authorize (on an emergency basis) Moderna's shot for American 12- to 17-year-olds.
Unfortunately, the FDA and the Centers for Disease Control and Prevention (CDC) are proceeding full steam ahead when it comes to authorizing the Pfizer-BioNTech COVID shot for younger children.
All signs indicate that, by hook or by crook, the agencies that are supposed to protect our children are determined to ignore disproportionate risks and safety signals in order to rush the experimental injections into kids' arms.
Children's Health Defense Chairman Robert F. Kennedy, Jr. told thousands who gathered in New York's Times Square on Oct. 16, "We have no business doing this to little children," stating that subjecting children to the adverse events of COVID vaccination is unethical and is "medical malpractice."
A foregone conclusion?
The FDA's Vaccines and Related Biological Products Advisory Committee (VRBPAC) will meet Oct. 26, to deliberate about authorizing emergency use of the Pfizer vaccine in children ages 5 to 11. FDA claims it will proceed carefully, "aware of the sensitivities people have about vaccinating children." However, the agency's track record of ignoring or hiding data — and the sunny predictions of former FDA Commissioner and current Pfizer board member Scott Gottlieb — make VRBPAC's green-lighting of the shots for grade-schoolers practically a foregone conclusion.
In advance of the anticipated FDA authorization, CDC has already issued guidelines on vaccinating children ages 5 to 11, and the Biden administration has purchased 65 million Pfizer pediatric doses — "more than enough to fully vaccinate … all 28 million 5 to 11-year-olds."
Today, the White House detailed its plan, already in place, to lean on schools and pediatricians to help vaccinate 28 million children. These actions suggest the CDC's Advisory Committee on Immunization Practices (ACIP), scheduled to meet Nov. 2 and 3, is poised to rubber-stamp FDA's decision. And if ACIP were somehow to fail to play ball, CDC's rule-by-fiat Director, Dr. Rochelle Walensky, has already shown herself more than capable of overruling her own advisers.
Another round of fear falls flat
Attempting to lay the psychological groundwork for FDA's impending authorization, New York Times science writer Apoorva Mandavilli asserted on Oct. 6 that almost 900,000 children had been hospitalized with COVID since the beginning of the pandemic. The Times was forced to retract Mandavilli's whopper — a 14-fold exaggeration — the next day.
Propaganda watchers noted the "whole-cloth falsehood" was of a piece with the "shameless scaremongering" that has been a prominent feature, both during and before COVID. Last May, in studies that a science writer should have been well aware of, California researchers reported that pediatric hospitalizations for COVID were being overcounted by at least 40%, "greatly overestimating the true burden of COVID-19 disease in children."
Contrary to Mandavilli's absurdly inflated claims, pediatric hospitalization numbers for COVID are "vanishingly small." Agreeing with this assessment, pediatric specialists at University of California-San Francisco emphasized, "Scientific and media reports that inaccurately portray the risk of COVID-19 to children can do harm by alarming parents."
Neither 'mild' nor 'treatable'
Manufacturers and the media have also tended to inaccurately portray the life-changing risk of myocarditis and other heart problems in young people following receipt of one or two doses of COVID vaccines. Though both Pfizer and Moderna now include a brief warning in their Emergency Use Authorization fact sheets for vaccine recipients that myocarditis and pericarditis "have occurred in some people who have received the vaccine," they characterize the chances as "very low."
The CDC, for its part, continues to recommend the shots for everyone 12 years of age and older, claiming most young victims of COVID-vaccine-induced heart inflammation "respond well to medications and rest."
University of British Columbia professor Dr. Steven Pelech strongly disagrees, criticizing health agencies' relaxed attitude about myocarditis as misleading. Pelech stated in August, "Contrary to what a number of people have said, there is no such thing as 'mild myocarditis.'" Pelech explained that once the heart muscle cells are killed, "they can never be replaced by new muscle cells, but only by scar tissue." This can lead to "a greater chance of heart attack and other problems later in life."
Last week, four- and five-year-old siblings mistakenly received adult doses of Pfizer's COVID-19 vaccine at a local Walgreens instead of getting the flu shots their parents had requested. The children experienced adverse reactions almost immediately, and both are now under the care of a pediatric cardiologist for problems that include headaches, chest pain, abnormally fast heart rate and high blood pressure.
Peter Hotez — a Baylor College of Medicine vaccine developer and patent holder to whom the mainstream media often turn for an "expert" soundbite — declared the two young siblings "will probably do OK," despite getting a "three times higher dose … than is being tested in clinical trials." Early in 2020, Hotez warned Congress about the problem of antibody-dependent enhancement, cautioning that it posed a "unique potential safety problem" in the development of coronavirus vaccines. After funds started pouring into Baylor supporting Hotez's development of a "truly Texas" coronavirus vaccine called Corbevax, Hotez changed his tune and also began strongly promoting vaccination of children.
Studies confirm that onset of myocarditis in COVID vaccine recipients, including in previously healthy adolescents and young adults, is often rapid. A recent case series documented myocarditis in 22 male members of the military (median age 25) within four days of COVID vaccination. The authors of the study admitted no cause other than vaccination could be identified.
Another study that reviewed data across 40 hospitals in four states found that post-vaccination myocarditis — which the authors suggest is considerably underreported — develops rapidly in younger patients, a median of 3.5 days after vaccination.
Why the big push to go after children?
Given that COVID disease poses almost no risk to children — with a 99.9973% survival rate for those 19-and-under, and hospitalization rates far lower than what the New York Times would have us believe — what possible rationale can FDA and CDC offer for subjecting young children to such a dangerous experiment? One answer is that good health is not profitable, whereas drug dependency is.
It is well established that the rise of chronic illness in American children is coterminous with the childhood vaccine schedule, and the types of adverse events documented in package inserts for liability-free childhood vaccines — 400 different reactions that include seizures, asthma, allergies, autoimmune illness, arthritis, paralysis, gastrointestinal disorders and mental health challenges — generate long-term and often lifetime clients for the pharmaceutical industry.
Now, doctors are reporting a significant uptick in cancers following COVID vaccination. Is this why Pfizer just spent more than $2 billion acquiring a company focused on cancer treatments? Central bankers are also well aware of these dynamics. A few years ago, Goldman Sachs — a New York Fed member bank — frankly admitted in a report that curing patients might not be "a sustainable business model."